FHA Streamline Refinance: No Verification of Job, Income, or Credit
August 4, 2019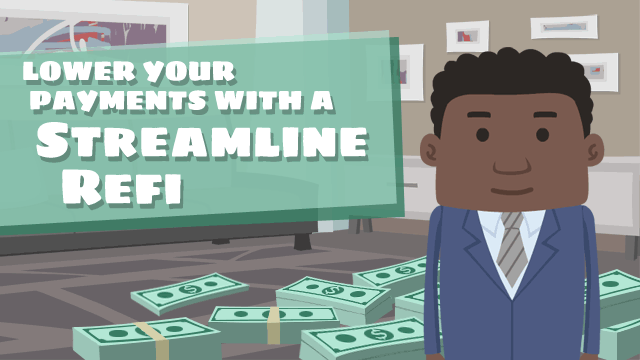 The FHA Streamline Refinance Loan is a unique type of refinance option borrowers with existing FHA mortgages have. This loan generally requires a benefit to the borrower in the form of:
Getting out of an adjustable rate mortgage OR;
Refinancing into a lower interest rate OR;
Refinancing into a lower mortgage payment OR;
Refinancing into a reduced loan term.
FHA Streamline Refinances have no FHA-required credit check, appraisal, or job verification in most cases. But there IS a credit-qualifying version of the FHA Streamline, and some lenders may only offer that version while others may provide both.
One interesting feature of the non-credit qualifying FHA Streamline is found on page 421 of HUD 4000.1, the FHA Loan Handbook:
"Individuals may be added to the title and Mortgage on a non-credit qualifying Streamline Refinance without a creditworthiness review."
FHA Streamline Loan Maximum Base Loan Amounts
HUD 4000.1 says that when using an FHA Streamline Refinance for a primary residence that will be owner-occupied, the maximum Base Loan Amount for Streamline Refinances is either "the outstanding principal balance of the existing Mortgage as of the month prior to mortgage Disbursement" plus any interest and mortgage insurance premium due on the existing mortgage, or the original principal balance of the existing Mortgage to include any financed Up-Front Mortgage Insurance Premium.
Whichever is lower will be the maximum base loan amount. FHA Streamline refinance Loans do not permit excess cash back to the borrower, so do not expect cash back at closing unless there is a refund due. We mention this here because of what FHA home loan rules in HUD 4000.1 say about calculating the maximum mortgage dollar amount:
"The Mortgagee may utilize estimates in calculating the maximum mortgage amount to the extent that the total mortgage amount does not result in the Borrower receiving greater than $500 cash back at mortgage Disbursement.
"
And what happens if there is cash back to the borrower at closing time in excess of FHA/HUD limits? It depends. HUD 4000.1 instructs the lender as follows:
"Cash to the Borrower resulting from the refund of Borrowers unused escrow balance from the previous Mortgage must not be considered in the $500 cash back limit whether received at or subsequent to mortgage Disbursement."
However,
"When the estimates utilized in calculating the maximum mortgage amount resulted in greater than $500 cash back to the Borrower at mortgage Disbursement, Mortgagees may reduce the Borrower's outstanding principal balance to satisfy the $500 cash back requirement."
Borrowers who aren't sure how this affects an FHA Streamline Refinance should discuss their concerns with the loan officer. Remember, the FHA loan transactions that generally result in cash back to the borrower not intended for a specific purpose (such as paying for labor, remodeling, construction, etc.) generally only include FHA Cash-Out Refinance Loans and FHA Reverse Mortgages.
Some FHA refinance loans include money for upgrades, construction, repairs, etc. but those funds are regulated and cannot be used for unapproved purposes.
------------------------------
RELATED VIDEOS:
Sometimes It Pays to Refinance
Don't Forget Your Closing Checklist
Monthly Payments Establish Good Credit
SEE YOUR CREDIT SCORES From All 3 Bureaus
Do you know what's on your credit report?
Learn what your score means.