Credit Repair Advice for First-Time Home Buyers
July 14, 2019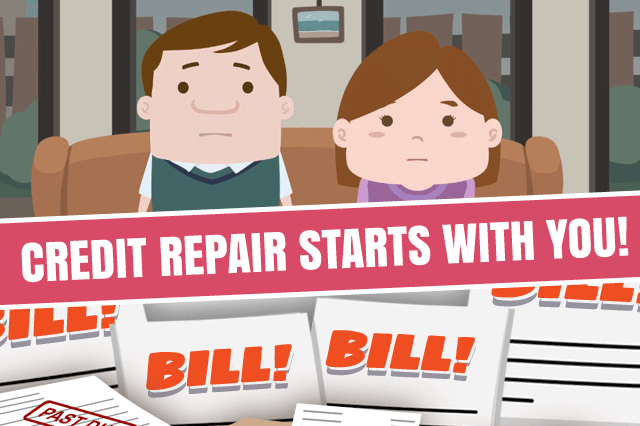 First-time home buyers worried about their credit scores and the general ability to qualify for an FHA home loan can take steps to ease their minds, improve credit, and get closer to home loan approval.
Do you know the difference between legitimate credit repair and scams designed to make you think your credit could get fixed in ways that aren't actually going to help you?
Credit Repair Starts With You
Long before you apply for an FHA mortgage or refinance loan, you will need to work on establishing or maintaining reliable credit patterns. Your lender is looking for these patterns to justify approving your mortgage loan application.
What kinds of patterns? On-time payment for all financial obligations. As in, on-time EVERY time. This record should be at least one year long for best results. This is something you cannot pay a third party to do, but the payment record one of the most important things your credit record will show.
Credit Card Use Your Lender Likes
What we mean by this is how you manage your credit card balances. Keep your balances below 50%, ideally at around 30% according to many consumer watchdog publications. The farther away you keep your credit card balances from the maximum, the better.
This is also something you cannot pay third parties to help you do, but it (like the payment record issue discussed above) is a key factor in improving your credit scores.
Review Your Credit Report and Dispute Errors or Evidence of Identity Theft
While reviewing your credit report and doing certain procedural things to correct it MAY be something you can pay a third party to do, you are much better off doing it yourself. Especially when the third party begins making claims they cannot really deliver upon such as offering to remove ACCURATE negative credit information from your report. This is NOT POSSIBLE.
If you need to correct your credit report for any reason, you may be asked to file reports, provide documentation, and do other steps that take time. But even if you pay someone else to do this for you, that third party will still have to reach out to you to request the documentation and you still have to make the effort to locate it.
Doing the work yourself will save you money, and the time investment to find the records and submit them will be required of you regardless.
Lower Your Debt Ratio
The lender wants to make sure you can realistically afford the monthly mortgage payment. Lower your debt ratio so that your outgoing payments do not eat more than 40% of your income as an initial goal but do be sure to ask your lender what ratio is acceptable to that financial institution for more accurate goals that can satisfy that particular lender.
Ask the loan officer what acceptable debt-to-income ratios apply at that institution and set your sights on meeting those expectations.
------------------------------
FHA MORTGAGE VIDEOS:
Your Mortgage Payment Schedule Is Called Amortization
Information About the Balloon Payment
Reliable Borrowers Can Qualify for a Cash-Out Refinance
SEE YOUR CREDIT SCORES From All 3 Bureaus
Do you know what's on your credit report?
Learn what your score means.