Warnings About Credit Repair and Home Loans
July 10, 2019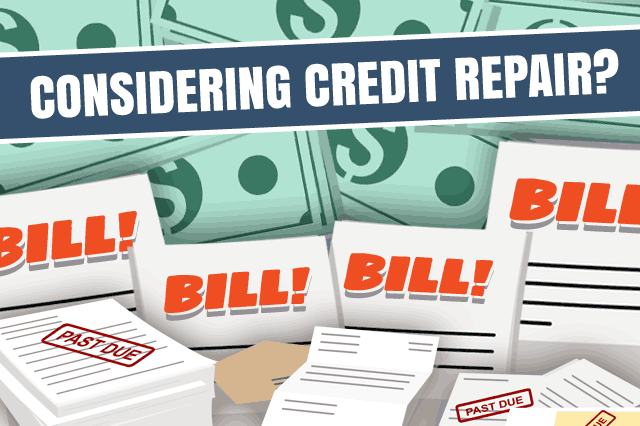 There are many borrowers who worry that they won't qualify for a home loan because of past credit mistakes, low FICO scores, and other problems. What do you need to know about fixing your credit ahead of an FHA home loan or any other major credit application? The answers might surprise you.
There Is No Such Thing as Removing Accurate Credit Data From Your Credit Report
Any third party credit repair company that offers to remove accurate negative credit information from your credit report is promising something that the United States government credit watchdog agency says is impossible.
The Consumer Financial Protection Bureau (CFPB) has this to say about third parties offering to remove accurate credit data from your report-CFPB advises borrowers about this specific scenario:
"The company tells you it can get rid of the negative credit information, even if that information is accurate and current. No one can do this."
Paying for "Credit Repair" Up Front Is The Indicator of a Credit Scam
CFPB advises consumers never to pay up front for credit repair services.
Under the federal Credit Repair Organizations Act, credit repair companies can't request or receive payment until they've completed the services they've promised."
That sounds fairly straightforward, but the consumer watchdog agency also reports that some companies try to avoid the appearance of asking for money up front by creating a monthly payment plan instead.
This is still pre-paying for services rendered and is a violation of the Credit Repair Organizations Act.
"You should know that all forms of upfront payment before services are completed are illegal"
according to CFPB.gov.
Don't Listen to Anyone Who Tells You It's Not Possible for You to Repair Your Own Credit
If you seek an FHA mortgage, cash-out refinance loan, reverse mortgage, or any other lending product, you can work on your own credit by making 100% on-time payments on all financial obligations for at least 12 months before you apply for a mortgage loan or refinance loan for the real estate you want or own.
You can also help your own FICO scores by reducing your credit card balances, avoiding "junk credit", and lowering your debt ratio. Yes, fixing your credit problems can be hard work, but the results are definitely worth the effort. Especially when it's time to apply for the home loan you want and need.
------------------------------
RELATED VIDEOS:
FHA Loans Have Eligibility Requirements
The U.S. Government Backs Mortgages Through the FHA
Financed Properties Must Meet FHA Minimum Standards
SEE YOUR CREDIT SCORES From All 3 Bureaus
Do you know what's on your credit report?
Learn what your score means.