Things You Can Do With an FHA Loan
July 7, 2019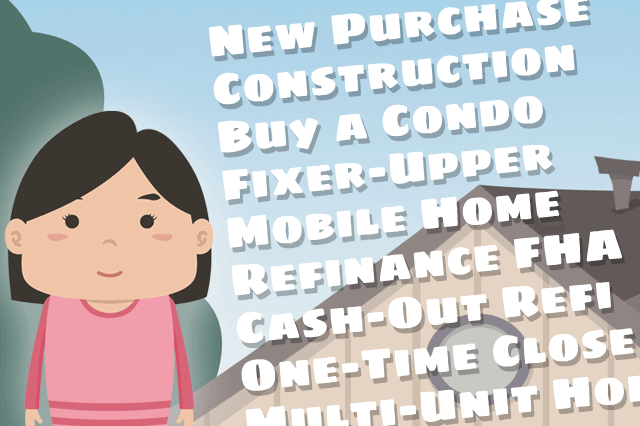 There are many uses for an FHA mortgage loan, and not everyone is aware of those options. You are not limited to buying a typical suburban house with an FHA loan whether you are a first-time home buyer or a repeat mortgage borrower.
FHA mortgages are not intended only for first-time home buyers, so if you already own property and are looking to purchase another home, consider the FHA mortgage for your needs if you intend to occupy the house you purchase as your primary residence.
What can you do with an FHA mortgage? How many different types of FHA mortgage are there? Here is a small sampling but this is not an exhaustive list:
New purchase loans
Construction loans (the FHA One-Time Close Construction mortgage)
Fixer-upper loans
FHA loans for condo units
Home loans to replace or repair a home damaged in a natural disaster
FHA mobile home loans
Home loans for modular or manufactured housing
Mortgages for multi-unit homes up to four units
Refinance an existing FHA loan
Refinance a non-FHA loan such as a conventional mortgage, VA loan, etc.
Refinance and renovate a home with an FHA 203(k) Rehab loan
Convert a home's equity into cash using a cash-out refi or a reverse mortgage
Refinance out of an adjustable rate mortgage into a fixed-rate loan
These loans all have different requirements depending on the nature of the purchase. For example, mobile homes must be built after June 15, 1976 and are required to be transported directly from the seller to the lot where it will be attached to a permanent foundation.
Homes with more than one unit may be rented out by the owner and regular income may be generated by the property, but the owner must live in one of the units and occupy the property as the primary residence.
Home loans for condo units require the condo project to be added to the FHA approved list if it has not been added already. Your lender can help with this but if the condo project does not meet FHA specifications it cannot be approved for an FHA mortgage.
What to most FHA home loans have in common? The following applies in many cases:
Most FHA loans allow an option to include an Energy Efficient Mortgage add-on to the loan. This add-on provides extra funds for approved energy-saving upgrades to the home including storm windows and doors, improved heating and electrical systems, etc.
Existing FHA loans can be refinanced with no FHA-required appraisal or credit check using an FHA Streamline Refinance loan. Streamline refinances are not for non-FHA mortgages. If you need to refinance an existing conventional or other non-FHA mortgage, consider asking about cash-out refinancing or no-cash out refinancing options in the FHA loan program.
------------------------------
RELATED VIDEOS:
What Is an FHA Loan?
Using an FHA Loan Calculator
Meeting FHA Loan Guidelines Improves Your Chances
SEE YOUR CREDIT SCORES From All 3 Bureaus
Do you know what's on your credit report?
Learn what your score means.