FHA Loan Articles
News and Updates for Homeowners
FHA Home Loans and Water Issues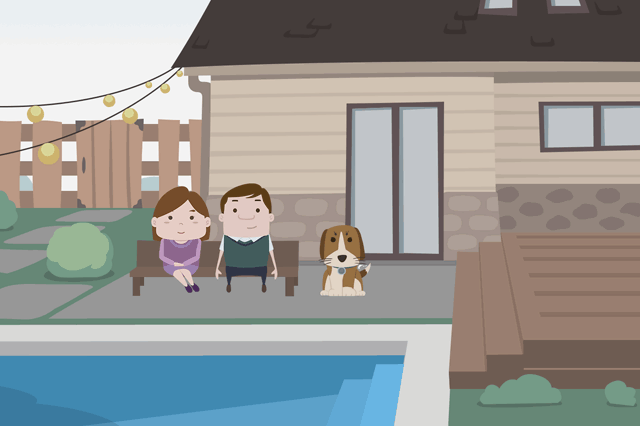 June 3, 2019 - FHA loan rules address several important areas that are reviewed in an appraisal. There are concerns about moisture, leaking roofs, and the overall condition of the plumbing system, but also concerns over other areas including storms, floods, and even swimming pools. Water is an important factor in many areas where buying a home is concerned.
FHA Loan Requirements for Swimming Pools
Obviously, this is not the first thing a first-time home buyer thinks of when reviewing a home, but if a swimming pool does not meet local building code requirements and other local laws, the appraisal process could make the pool a sticking point in loan approval. HUD 4000.1, the FHA loan rulebook, says the pool must comply with "all local ordinances" or be corrected as a condition of loan approval.
FHA Loan Requirements for Flood Issues
Certain flood issues are known in certain areas and this is not an automatic barrier to FHA loan approval, but flood insurance may be required in such cases. That is an expense to be mindful of, and the implications of living in a known flood zone should be given proper consideration.
Some areas are not necessarily known as being regular flood zones but an official determination may be required. In such cases, the flood zone determination is an expense the borrower must bear.
Some flood zone areas are not approved for FHA mortgage loans. According to HUD 4000.1, "A Property is not eligible for FHA insurance if a residential building and related improvements to the Property are located within SFHA Zone A, a Special Flood Zone Area, or Zone V, a Coastal Area, and insurance under the National Flood Insurance Program (NFIP) is not available in the community; or the improvements are, or are proposed to be, located within a Coastal Barrier Resource System (CBRS)."
FHA Loan Rules for Moisture, Leaks, and Pooling Water
If an FHA appraiser finds excessive moisture, evidence of leaks in the roof, pooling water in basement areas, or similar problems, corrections will be required as a condition of loan approval. One example of FHA loan requirements in this area are found on page 504 of HUD 4000.1:
"The Appraiser must notify the Mortgagee of the deficiency of MPR or MPS if the roof covering does not prevent entrance of moisture or provide reasonable future utility, durability and economy of maintenance and does not have a remaining physical life of at least two years."
FHA loan rules in these areas are not the only ones that may apply; building code, state or local ordinances, federal laws, and other regulations may also have a say in how such issues are dealt with.
------------------------------
RELATED VIDEOS:
Learn How to Meet FHA Requirements
A Few Tips About Your Fixed Rate Mortgage
Your Proof of Ownership Is the Property Title
SEE YOUR CREDIT SCORES From All 3 Bureaus
Do you know what's on your credit report?
Learn what your score means.
FHA.com Reviews
FHA.com is a one-stop resource for homebuyers who want to make the best decisions when it comes to their mortgage. With our detailed, mobile-friendly site, individuals can access information about different FHA products, the latest loan limits, and numerous other resources to make their homebuying experience easier. Take a look at some of the reviews from other FHA.com visitors!