The Two FHA Rehabilitation Loans
May 28, 2019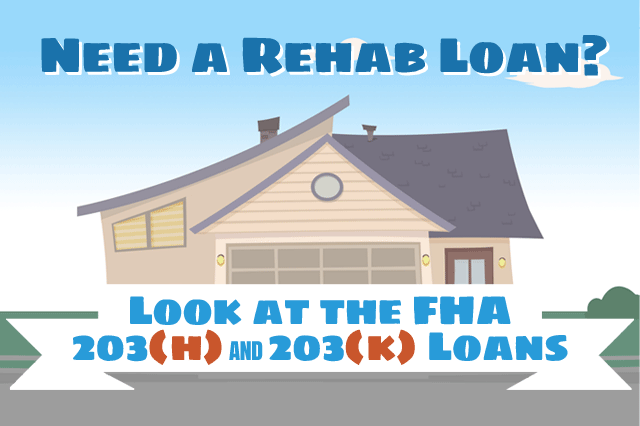 There are two kinds of FHA rehabilitation loans offered to borrowers who want to buy or refinance a home at the same time they get funding to repair, remodel, or renovate. These FHA mortgages are known as FHA 203(k) Rehab loans and FHA 203(h) rehab loans.
The major difference between the two is that one is for any financially qualified borrower, the other is strictly intended for borrowers who are recovering from a natural disaster in a federally declared disaster area.
The FHA 203(k) Rehabilitation loan allows any financially qualified borrower to buy or refinance property and repair/remodel it at the same time. According to HUD 4000.1, you can use an FHA 203(k) in the following ways:
Rehabilitate an existing one- to four-unit structure, which will be used primarily for residential purposes.
Rehabilitate such a structure and refinance the outstanding indebtedness on the structure and the real property on which the structure is located.
Purchase and rehabilitate the structure and purchase the real property on which the structure is located.
This can be done as a new purchase or as a refinance loan. FHA 203(h) loans for disaster victims permit the borrower to do the following, with one important additional feature.
"The Section 203(h) Mortgage Insurance for Disaster Victims program allows FHA to insure Mortgages made by qualified Mortgagees to victims of a Presidentially-Declared Major Disaster Area (PDMDA) who have lost their housing, or whose housing was damaged and are in the process of rebuilding or buying another house."
For those wishing to apply for the 203(h) loan, the property must be a primary residence the borrower will own and occupy, and the previous residence "must have been located in a PDMDA and destroyed or damaged to such an extent that reconstruction or replacement is necessary."
The FHA loan rulebook adds that there is a list of the specified affected counties and cities and corresponding disaster declarations provided by the Federal Emergency Management Agency (FEMA) official site.
And what's the important feature mentioned previously? The FHA 203(h) loan for disaster victims allows the borrower to apply for both of the rehab loans-you can use the "regular" 203(h) in conjunction with the version offered to disaster victims if you qualify to do so.
Ask a lender about this option to learn what it takes to qualify and what you should expect in terms of closing costs, paperwork, etc.
------------------------------
RELATED VIDEOS:
Know What's On Your Credit Report
FHA Loans Have Credit Requirements
Help Is Available With Down Payment Grants
SEE YOUR CREDIT SCORES From All 3 Bureaus
Do you know what's on your credit report?
Learn what your score means.