FICO Scores Needed To Qualify for Your FHA Loan
April 28, 2019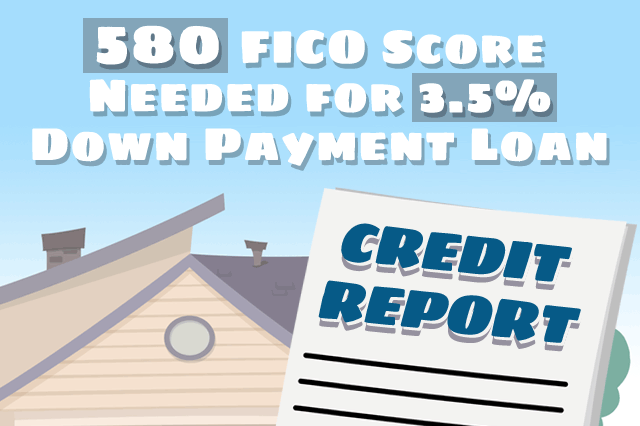 What FICO scores do you need to qualify for an FHA mortgage? The answer is that there are two sets of requirements. One is the FHA minimum standard and the other is the lender's requirements which may be higher than the FHA minimums.
So for the lender's requirements you will need to contact the lender-there are no standardized lender FICO score rules so they may and often do vary among financial institutions. That's not to say that many won't be similar, but they are not required to be.
The FHA loan program itself establishes a FICO score minimum of 500 or higher. Those with FICO scores between 500 and 579 can technically qualify for an FHA home loan but they will be required by FHA loan program rules to make a 10% down payment.
Borrowers with FICO scores at 580 or higher qualify for the lowest FHA mortgage down payment of 3.5%.
Do you need to work on your FICO score to qualify for an FHA mortgage? Don't assume the FHA loan program minimums are the only scores you have to meet or exceed-ask a lender what that financial institution's FICO score rules are, too.
FICO scores not only determine your basic eligibility for an FHA home loan, but they also inform the lender's decision on how much interest to charge. Your interest rate offer from the lender is affected by FICO scores so it's a very good idea to begin working on your credit as early as possible.
Don't waste time and money paying a third party to "repair" your credit. You can get your own credit repair results by paying on time for all financial obligations at least a year ahead of your loan application.
You will also improve your scores by lowering your debt ratio, not carrying balances in excess of 50% on your credit cards, and avoiding new lines of credit and/or junk credit.
You should also research credit blogs and government consumer credit protection sites to learn what the latest credit scoring trends are and any new developments that can affect your scores. Sometimes credit literacy is half the battle. Be an informed consumer and you will reap the benefits.
It may sound like a lot of work to get ready for a home loan, but if you are committed to owning your own home, this effort is definitely worth it. If you are not sure about whether you qualify for a loan in your current circumstances, you can always talk to a participating FHA lender to learn more about the requirements for loan approval.
------------------------------
RELATED VIDEOS:
There's a Difference Between APR and Interest Rates
Choose Your Mortgage Lender Carefully
Getting Started With Your FHA Loan Application
SEE YOUR CREDIT SCORES From All 3 Bureaus
Do you know what's on your credit report?
Learn what your score means.