What Makes FHA Streamline Refinance Loans Different?
April 15, 2019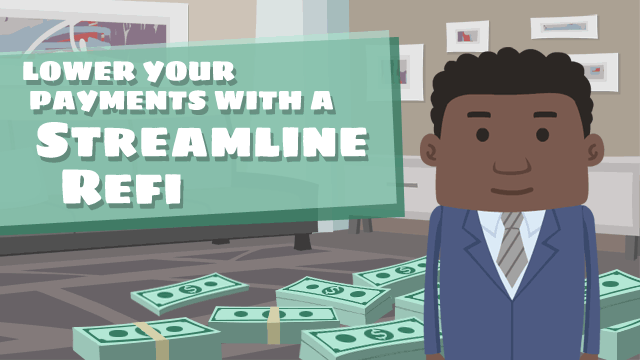 There are many options to refinance a home loan, but one of the most unique and borrower-friendly of these is the FHA Streamline Refinance loan, which offers advantages for those eligible to apply.
FHA Streamline refinance loans do not require the documentation your lender would need if you were applying for cash-out refinance loans including an appraisal, credit check, employment and income verification, etc.
This alone makes the loan unusual; another aspect of FHA Streamline Refinance is that in most cases a tangible benefit to the borrower is a condition of loan approval.
What does this mean?
FHA Streamline Refinance loans usually require the borrower to get a lower interest rate, a lower monthly payment, or some other benefit such as getting into a fixed rate FHA loan and out of an adjustable rate mortgage.
FHA Streamline Refinance Loans: No FHA-Required Credit Check in Most Cases
Streamline refinancing allows your lender to waive the credit check and appraisal in most cases, but a credit check would be required in any case where the streamline loan has add-ons (such as an energy efficient mortgage package or financed costs allowed in the transaction) that increase the amount of the monthly payment by a certain percentage.
Borrowers who choose to pay their mortgage loan costs out of pocket and have little to no additional funds rolled into the loan amount (where permitted) will reap the benefits of not financing the additional expenses; those who do choose add-ons to the mortgage at refinance time will need to do the math to determine how their new monthly payments are affected.
FHA Streamline Refinance Loan Rules to Remember
One important area to remember-FHA Streamline Refinance Loans are for existing FHA mortgages only. You cannot refinance a conventional or other non-FHA mortgages into an FHA Streamline.
Additionally, no cash out is permitted to the borrower for Streamline loans; that's one reason why the lender is able to waive the credit check and employment verification-no cash back to the borrower is allowed with these loans.
Ask your loan officer about the FHA Streamline refi option and how it could affect your monthly payments, interest rate, or other variables.
------------------------------
RELATED VIDEOS:
Your Mortgage Payment Schedule Is Called Amortization
Information About the Balloon Payment
Reliable Borrowers Can Qualify for a Cash-Out Refinance
SEE YOUR CREDIT SCORES From All 3 Bureaus
Do you know what's on your credit report?
Learn what your score means.