Buying a Multi-Unit Home With an FHA Mortgage
February 27, 2019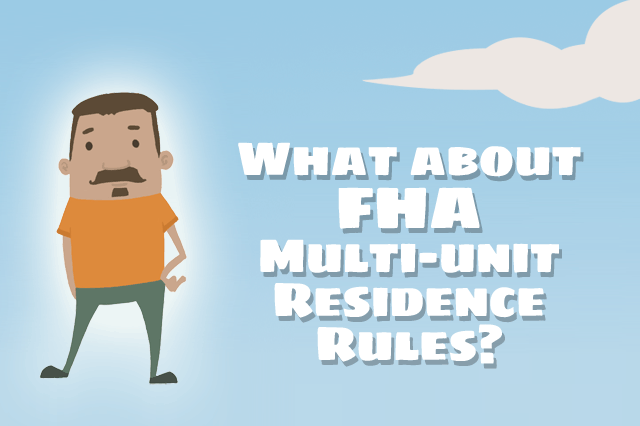 Many new house hunters consider purchasing property with an FHA mortgage loan that is bigger than they currently need-they anticipate a bigger family, needs for a hobby room or home office, etc.
Depending on your financial needs and goals, buying a multi-unit property with an FHA mortgage makes sense. After all, the FHA down payment requirements and FICO score rules are the same whether you are buying a single-unit home as a starter home or when purchasing a property with as many as four living units.
FHA Loan Rules for Multi-Unit Properties
The FHA loan rules for purchasing a multi-unit property as a first-time home buyer or experienced homeowner can be found in HUD 4000.1. FHA loan rules permit the purchase of a home with no more than four living units.
Occupancy is a requirement for any property you buy with an FHA single-family mortgage loan whether you are a first-time buyer or not. FHA loan rules require a minimum of 3.5% down, though seller contributions to closing costs (when negotiated with the seller) can help a new borrower better afford that down payment.
FHA loans state that it's permissible to rent out the unused living units in your new home but you are required to live in one of the units as your primary residence, and your rental agreement must be long-term. No Air b-n-b operations are permitted with homes purchased with an FHA mortgage.
Those who want to use the home for Air b-n-b type rentals would need to refinance the FHA mortgage into a conventional loan to do so.
Multi-Unit Properties and FHA One-Time Close Construction Loans
Did you know that first time home buyers are eligible to apply for an FHA construction loan to have a home built from the ground up? FHA loan rules technically permit multi-unit properties to be financed for construction with an FHA mortgage, but you will need to check with your loan officer to see if this is permitted by the lender.
Some lenders will only allow the construction of single-unit properties with an FHA One-Time Close loan, also known as an FHA construction-to-permanent loan. Some, but not all lenders may allow these construction loans for the purpose of buying a modular or manufactured home and having it assembled on the lot where it will be affixed to a permanent foundation.
You will need to ask your lender if these options are possible based on that financial institution's standards.
FHA, VA, and USDA: One-Time Close Loans
------------------------------
RELATED VIDEOS:
What Is an FHA Loan?
Using an FHA Loan Calculator
Meeting FHA Loan Guidelines Improves Your Chances
SEE YOUR CREDIT SCORES From All 3 Bureaus
Do you know what's on your credit report?
Learn what your score means.