First Time Home Buyer Advice for FHA Mortgages
February 5, 2019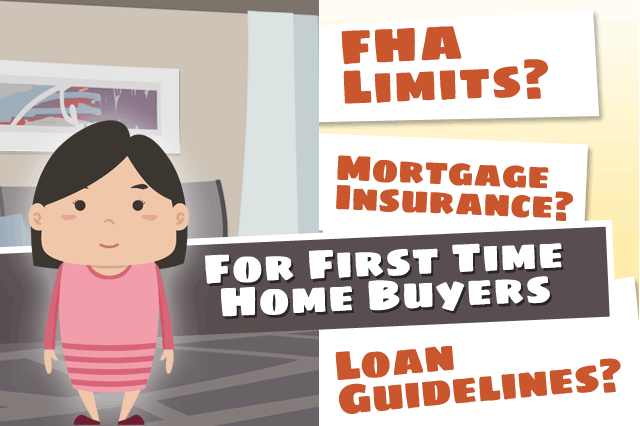 First time home buyers, including millennials, may find buying instead of renting to be a cost-effective option in the new year. 2019 housing trend forecasts point to slowing home prices and more inventory for house hunters to explore. So what should first-time home buyers know about buying a home with an FHA mortgage loan?
FHA Home Loans Are Most Often for First-Time Home Buyers
FHA mortgages are not intended for a single type of house hunter. If you are searching for a dream home and are open to condo loans, mobile home loans, or are even considering having a house built to suit on land you already own or need to purchase, there is an FHA mortgage loan for you.
FHA mortgage loans are not just for first time home buyers, and that means more than just the fact that the program is open to any financially qualified borrower who wants to buy a primary residence.
It also means that there are FHA home loan options available to the FHA borrower for refinance loans including cash-out, rehab loans for home repair or remodeling, and streamline refi loans that allow the borrower to get a tangible benefit from the loan such as a lower interest rate.
FHA Mortgage Loans Can Help First Time Homeowners Refinance
Planning ahead for homeownership should include serious consideration of refinance loan options. FHA borrowers who want to refinance later down the line have the option of an FHA Streamline Refinance loan, which features no FHA-require credit check or appraisal.
Streamline refinance loans are created to provide these benefits for borrowers who need them; a streamline refinance loan applicant could choose to refinance out of an adjustable rate mortgage into a fixed rate loan (one example of a "tangible benefit") or those with fixed rate loans could choose to refinance at a lower interest rate.
Most FHA refi loans allow certain add-ons such as the FHA Energy Efficient Mortgage add-on, which adds funds for approved energy-saving upgrades to the property.
FHA Mortgages for First Time Home Buyers: Lower Down Payment Requirements
FHA mortgage loan down payment requirements for first time home buyers is a low 3.5% for those with FICO scores of 580 or above. That credit score requirement is an FHA loan rule, not your lender's standards-be sure to ask if the lender's FICO score requirements are different.
Your 3.5% down payment can be made out of pocket, or with a down payment gift from friends, family, or your employer. A down payment assistance program in your local area, where available, may also be an option to reduce down payment costs up front.
When you buy your first home with an FHA mortgage, remember to pay for both an appraisal AND a home inspection which is NOT the same procedure as an appraisal. Ask your lender about the difference between the appraisal and a home inspection if you aren't sure why to take this extra (but crucial) step.
------------------------------
RELATED VIDEOS:
Learn How to Meet FHA Requirements
A Few Tips About Your Fixed Rate Mortgage
Your Proof of Ownership Is the Property Title
SEE YOUR CREDIT SCORES From All 3 Bureaus
Do you know what's on your credit report?
Learn what your score means.