First Time Home Buyer Loan Options - FHA, VA, and USDA
December 26, 2018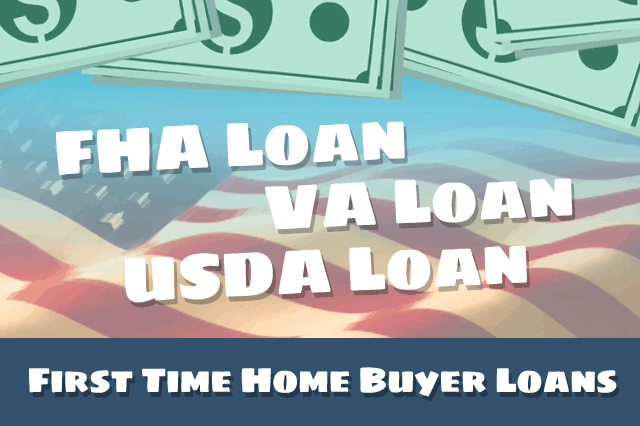 There are several kinds of government-backed home loans and refinance loans on the market today; some first-time home buyers want to know why they should apply for an FHA mortgage when they could apply for a 100 percent VA mortgage or no-money-down USDA loan instead.
This is an important question. Why borrowers often choose FHA over these other home loan programs has much to do with eligibility for the individual type of loan.
FHA mortgages come with a low down payment requirement of 3.5%, while VA loans and USDA mortgages offer home loans with no money down options. But FHA loans are, unlike USDA and VA mortgages, open to all financially qualified borrowers who wish to buy property to use as their main residence.
USDA loans are "rural loans" for properties in approved rural areas. USDA mortgages have income requirements FHA mortgages do not, and VA mortgages are limited to those who serve a minimum time in the military (and certain surviving spouses of those who have).
In other words, of the three programs, FHA mortgage loans are available to the largest number of people. You don't need to be a first-time home buyer to qualify for an FHA mortgage, you can get down payment assistance (from local agencies or friends/family) for lower out-of-pocket costs, and you can get seller contributions of up to six percent of the sale price of the home.
There are some things all three home loan programs have in common which sometimes leads to confusion over which program is which. For example, FHA, USDA, and VA loans all require the borrower to be an owner/occupier.
You are required by all three programs to use the home for personal occupancy and not as an investment property you don't intend to live in. Borrowers may be permitted with VA and FHA mortgages to buy multi-unit homes and rent out the unused units.
Whether the participating lender will underwrite such loans is up to the individual lender, but FHA and VA loan rules technically allow it.
Also, all three types of mortgage offer the ability to refinance including Streamline Refinancing which may permit the lender to forego a credit check and appraisal.
What confuses some about FHA mortgages is the assumption that, like USDA loans, there is an income requirement. FHA mortgages do not have a minimum or maximum income, FHA loans are not need-based mortgages, nor do they require the borrower to have no previous home ownership experience.
Ask a loan officer about your FHA home loan options. Even if you qualify for a VA or USDA loan, compare the features of all three types of home loan to see where you may find your biggest advantage as a home buyer.
------------------------------
RELATED VIDEOS:
Understand the Reasons for Private Mortgage Insurance
Carefully Read Your Closing Disclosure
Buying a Home With a Co-Borrower
SEE YOUR CREDIT SCORES From All 3 Bureaus
Do you know what's on your credit report?
Learn what your score means.