The Difference Between Construction Loans and Rehab Loans
December 13, 2018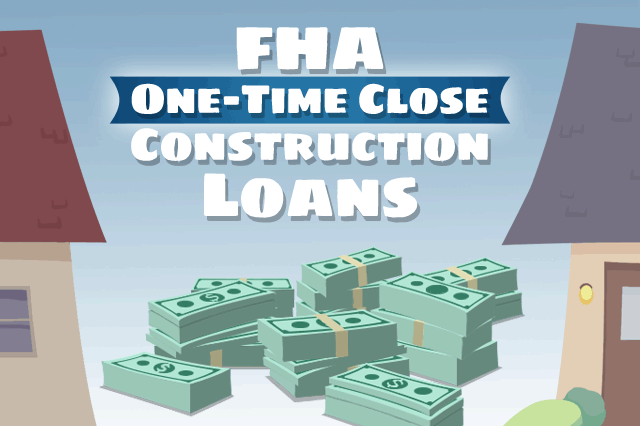 Borrowers who want to have a home built for them instead of buying an existing property should look into the FHA One-Time Close Construction Loan. Borrowers who want to remodel, repair, or renovate a home should consider buying and fixing a property using an FHA 203(k) Rehabilitation Loan.
But what is the difference between an FHA construction loan and an FHA Rehab loan?
There are many differences. The construction loan is designed to address the needs of a borrower who wants to buy the land (or provide it) and have a house built according to the plans the borrower provides. That means that the loan must accommodate not only the finished home, but the supplies, labor, inspections and other details.
Funds are paid out of escrow to the builders and other professionals needed to complete the job and the borrower takes possession of the home when the project is deemed complete.
Borrowers have the option to apply for a traditional construction loan that requires not one, but two applications and closing dates (one for the labor and materials, etc. and one for the finished home). But the simpler FHA One-Time Close construction loan eliminates the need for a second application and closing date.
FHA Rehabilitation loans work in a similar manner in some respects-the borrower must use FHA approved builders in both cases, there are FHA requirements that must be followed so that the finished home meets minimum standards, and FHA rehab loans require the use of escrow the same as an FHA construction loan.
But FHA rehabilitation loans allow the borrower to purchase an existing property that needs to be repaired or refinance the borrower's current mortgage. FHA rehabilitation loans don't feature work done from the ground up, but rather serves to facilitate work to be done on existing structures or to add to them.
The basic general difference between an FHA rehab loan and an FHA One-Time Close construction loan is that the purpose of the loan drives the type of loan you should apply for. Remodeling, renovation, or improvement on a property is possible with a rehab loan, but only construction work from the ground up is possible with a One-Time Close mortgage.
Borrowers should be prepared for certain restrictions on the use of FHA loan funds for projects depending on the nature of your loan.
For example, FHA rehab loans do not allow the addition of luxury features such as a new swimming pool, new barbecue pit, etc. Existing features such as these may be repaired or renovated if there is a safety issue that needs to be addressed, but otherwise you will need to consult your loan officer to see what restrictions apply to a certain kind of repair work.
FHA construction loans may be affected by how quickly the borrower is able to obtain a builder's permit for the work; in housing markets where permit processing times are much longer than elsewhere, borrowers should be prepared to deal with that contingency.
------------------------------
RELATED VIDEOS:
Keep Your Eyes on Your Loan Balance
Learn About FHA Loan Prepayments
Taking Out a Home Loan Makes You a Borrower
SEE YOUR CREDIT SCORES From All 3 Bureaus
Do you know what's on your credit report?
Learn what your score means.