One-Time Close Construction Loans: Build Or Buy?
July 16, 2019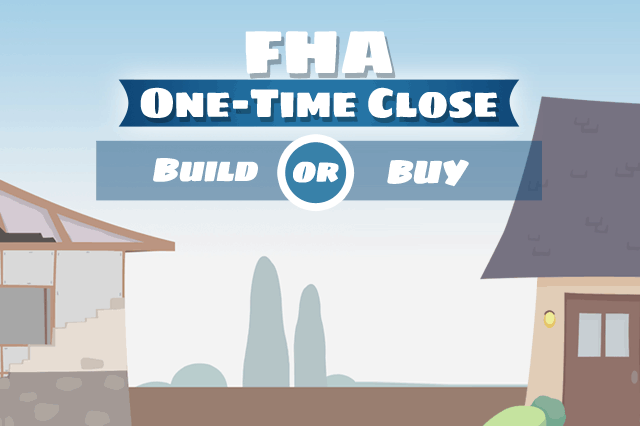 Build or buy? The One-Time Close construction loan, an option for FHA loan applicants, VA loan applicants, and USDA borrowers, offers the ability to have a home built from the ground up. Is this the right choice for you?s
Construction Loans for Borrowers Who Can't Find a Suitable Existing Construction Home
Some house hunters hit the market with specific ideas about what they want from a new home. For some, enough space to raise a future family in is a consideration. For others, a garage with room for tools and a work area may be a priority.
Others may wish to have a multi-story home or an extra bedroom to use as a home office or work space. It may be easy to find some of these features in existing construction homes, but if a borrower can't find the right property, it may be a good idea to consider having one built to suit.
Build Or Buy? Time Factors
Some borrowers have a sense of urgency about getting moved into a new home. If you cannot wait out the construction phase of an FHA One-Time Close construction loan, which may take up to a year to complete depending on project and other considerations, an existing construction FHA loan may be best.
But those who can wait out the construction phase, a One-Time Close mortgage could be the best option when it comes to getting the desired features or configuration of the home just right.
Mortgage Payment Issues
Depending on the nature of your One-Time Close construction loan, your mortgage payments will not be due right away-your payments may be required once the construction phase is completed and you take possession of the home.
But the term of the loan still applies even with a delayed start-unlike existing construction loans where mortgage payments start right away, the borrower with a One-Time Close loan should expect to negotiate the payments with the lender to accommodate the portion of the loan term under the construction phase.
Ask your lender how delayed payments will require an adjustment of either your monthly mortgage amount or a balloon payment at the end of the mortgage term.
FHA, VA, and USDA: One-Time Close Loans
Learn More About FHA One-Time Close Construction Loans
We have done extensive research on FHA One-Time Close mortgages and spoke directly to the licensed lenders for most states. These are qualified mortgage loan officers who work for lenders that know the product well.
Each company has supplied us the guidelines for their product. If you are interested in being contacted by one licensed lender in your area, please respond to the below questions to save time. All information is treated confidentially.
Your response to
[email protected]
authorizes FHA.com to share your personal information with a licensed mortgage lender in your area to contact you.
Please note that the FHA One-Time Close Construction Program only allows for single family dwellings (1 unit) – and NOT for multifamily units (no duplexes, triplexes or fourplexes).
1. Send your first and last name, e-mail address, and contact telephone number.
2. Tell us the city and state of the proposed property.
3. Tell us your credit score and/or the Co-borrower's credit score, if known. 620 is the minimum qualifying credit score for this product.
4. Are you or your spouse (Co-borrower) eligible veterans?
5. If either of you are eligible veteran's, the down payment is $0 up to the maximum VA lending limit for your county. If not, the FHA down payment is 3.5% up to the
maximum FHA lending limit for your county.
SEE YOUR CREDIT SCORES From All 3 Bureaus
Do you know what's on your credit report?
Learn what your score means.