FHA Cash-Out Refinance Loans and Reverse Mortgages
October 27, 2018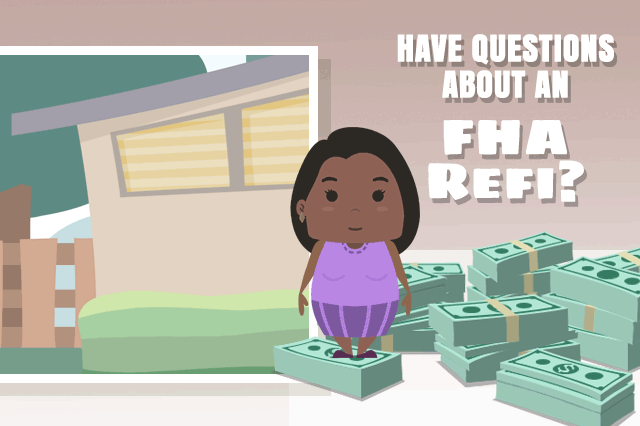 What's the difference between an FHA cash-out refinance loan and an FHA reverse mortgage? There are several distinctions between these two FHA guaranteed loans, both of which can result in cash back to the borrower as part of the loan transaction.
FHA Cash-Out Refinance Loans are for All Financially Qualified Borrowers
An FHA cash-out refinance is open to all borrowers who can meet the income and credit score requirements for the loan.
There is no minimum income requirement for FHA loans but the income the borrower has must meet FHA standards for stability and reliability. Your loan officer will generally need to verify two years of income (the same as with a new purchase loan); cash out refinance loans will also require a new credit check regardless of how new the original mortgage might be.
FHA cash-out refinance loans can be used to refinance any type of mortgage even if it's not an FHA loan.
FHA Reverse Mortgages are for Financially Qualified Borrowers Aged 62 or Older
Unlike FHA cash-out refi loans, FHA reverse mortgages (also known as Home Equity Conversion Mortgages or FHA HECM Loans) are intended only for qualified borrowers aged 62 or older. The age restriction isn't the only one for this type of mortgage-borrowers approved for FHA HECM loans either own their homes outright or have very few mortgage payments left.
FHA Cash-Out Refinance Loans are Typical Refi Loans With Monthly Payments
FHA cash-out refinancing offers cash back to the borrower once the original mortgage loan and any associated fees and expenses are paid off. This refi loan has typical monthly mortgage payments for the principal and interest on the mortgage.
FHA Reverse Mortgages Feature No Monthly Mortgage Payments
An FHA reverse mortgage has no monthly payments; the loan is paid in full when the borrower dies, sells the home, or stops using the home as the primary residence.
The FHA reverse mortgage contract will provide for the sale of the home when one of those conditions applies and the proceeds of that sale will be used to pay off the reverse mortgage.
FHA Reverse Mortgages Require Counseling as a Condition Of Loan Approval
Unlike FHA cash-out refinance loans, FHA reverse mortgages require all borrowers to be obligated on the reverse mortgage to attend reverse mortgage counseling so that all requirements, rights, and responsibilities are fully understood before closing day. Cash-out refinance loans can be simpler and more straightforward and require no counseling. But reverse mortgages have some additional unique requirements that must be understood before the legally binding contract is signed.
FHA Refinance Loans And Reverse Mortgages Can Be Processed By Any Participating Lender
FHA cash-out refi and FHA reverse mortgages can be serviced by any participating FHA lender who offers these loans. You do not have to use the original lender for either a reverse mortgage or an FHA cash-out refinance loan.
------------------------------
RELATED VIDEOS:
Understand the Reasons for Private Mortgage Insurance
Carefully Read Your Closing Disclosure
Buying a Home With a Co-Borrower
SEE YOUR CREDIT SCORES From All 3 Bureaus
Do you know what's on your credit report?
Learn what your score means.