FHA Mortgages vs. Conventional Loans
August 13, 2018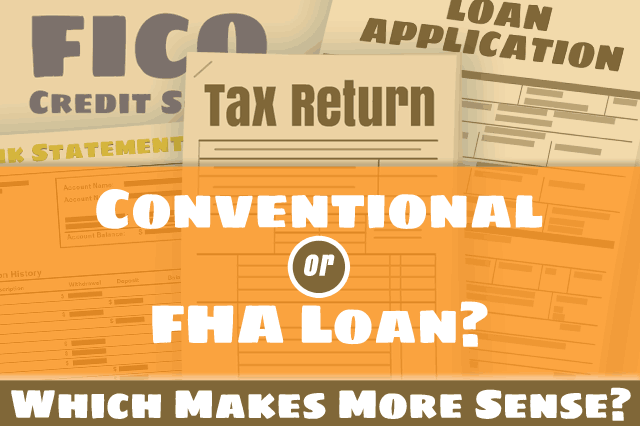 Why should borrowers consider an FHA mortgage over a conventional loan? There are many reasons why-some are situational, others may come down to how much the house hunter wants to budget for a down payment.
Credit Issues to Consider
FHA home loans have more lenient credit standards. While lender requirements may vary, the baseline for FHA home loans with regard to FICO scores is 580 or higher for the lowest down payment, and FICO scores between 500 and 579 still may qualify based on FHA loan guidelines. Again, lender requirements may be higher depending on a variety of factors.
But the FICO scores themselves aren't the only reason to consider an FHA mortgage. If you apply for a conventional loan with low-to-average credit, the interest rate you may be offered by the conventional lender may be higher than what's offered by a participating FHA lender.
Credit scores can and do affect the interest rate you are offered, so it's important to know your scores and the lender's standards before committing to one particular lender.
Down Payment Requirements
How much will your conventional loan require in a down payment? That depends on a variety of factors including credit scores and what kind of credit risk the conventional lender thinks you might be. FHA mortgage loans typically require a minimum 3.5% down.
The amount of your FHA loan down payment may vary depending on the nature of your transaction and whether your FICO scores meet FHA requirements for the lowest down payment.
Should I Make a Higher Down Payment?
When answering the down payment question, it does not matter whether you choose an FHA mortgage or a conventional one as much as your future plans for the home matters. Why?
If you pay more money down, you can decrease the cost of your home loan over the duration of the mortgage. But borrowers who do not plan to keep the home for the entire loan term may do better to make the lowest down payment possible (depending on financial goals and needs) and try for the most competitive interest rate possible.
If you do plan on keeping the home for the long term, paying more upfront can save you over the lifetime of the loan.
Borrowers who need lower mortgage payments every month should consider their loan options differently than those who have the goal of saving money over the whole term of the mortgage. Those who plan to sell early should consider a different strategy to buying, borrowing, and paying for their mortgages.
The borrower who plans to sell early may wish to explore an FHA Adjustable Rate Mortgage (ARM), the borrower who plans to keep the home may wish to consider a fixed rate loan and the idea of buying discount points to lower interest rates.
------------------------------
RELATED VIDEOS:
Disclosures Give Transparency to Borrowers
Understanding the Purpose of Your Mortgage Down Payment
Putting Money Into Your Escrow Account
SEE YOUR CREDIT SCORES From All 3 Bureaus
Do you know what's on your credit report?
Learn what your score means.