FHA Mortgages for Disaster Victims: Basic Qualifying Information
May 30, 2018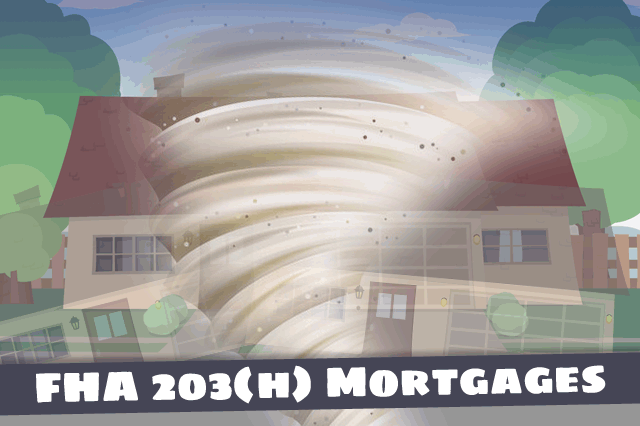 What are the FHA loan rules for 203(h) mortgages for disaster victims? HUD 4000.1, the FHA Loan Handbook, has the basic rules and requirements for these loans which are made available to those recovering in federally-declared disaster areas.
FHA 203(h) Basics
The FHA Loan Handbook defines these mortgages as available to single-family homeowners (who must be owner/occupiers) to buy or rebuild a home in a Presidentially-Declared Major Disaster Area or PDMDAS.
The borrower's original home must be located in these areas as defined by the Federal Emergency Management Agency (FEMA).The FHA does not assign these declarations, it simply issues loans in affected areas as defined by FEMA.
FHA 203(h) Loan Credit Requirements
FHA guidelines specify a minimum credit score of 500. Lender requirements may also apply in addition to the FHA loan minimum.
In some situations the borrower may have credit problems. Such problems may or may not be caused by or associated with the disaster, which is why HUD 4000.1 instructs the lender as follows:
"For Borrowers with derogatory credit, the Mortgagee may consider the Borrower a satisfactory credit risk if the credit report indicates satisfactory credit prior to a disaster, and any derogatory credit subsequent to the date of the disaster is related to the effects of the disaster."
Borrowers should expect to work closely with the loan officer to establish the causes of such credit issues. You may need to provide supporting documentation including personal statements, financial records, or other evidence to establish when and how credit problems caused by a natural disaster were created.
It's understood that a borrower's personal records may not have survived a disaster, but FHA loan rules permit supporting documentation from sources such as the IRS or other agencies to take the place of the applicant's personal files. Lender standards will also apply.
FHA 203(h) Loan Options
These FHA home loans for disaster victims can be used in conjunction with other FHA mortgages such as an FHA 203(k) Rehab Loan. Certain requirements (see below) may apply when using the FHA 203(h) loan for disaster victims together with the 203(k).
FHA 203(h) Loan Down Payment Requirements
Unlike other FHA mortgage loan options, the FHA 203(h) does not require a down payment. However, borrowers who are using the 203(k) mortgage AND a 203(h) will be affected by the following guidelines found on page 397 of HUD 4000.1:
"The Borrower is not required to make the Minimum Required Investment (MRI). The maximum Loan-to-Value (LTV) ratio limit is 100 percent of the Adjusted Value. If a 203(k) is used in conjunction with a 203(h), the 203(k) LTV applies."
In other words, the 203(k) rehab loan down payment requirements will apply in such cases.
------------------------------
RELATED VIDEOS:
Know What's On Your Credit Report
FHA Loans Have Credit Requirements
Help Is Available With Down Payment Grants
SEE YOUR CREDIT SCORES From All 3 Bureaus
Do you know what's on your credit report?
Learn what your score means.