FHA Rehab Loans: What Are Improvement Standards?
May 11, 2018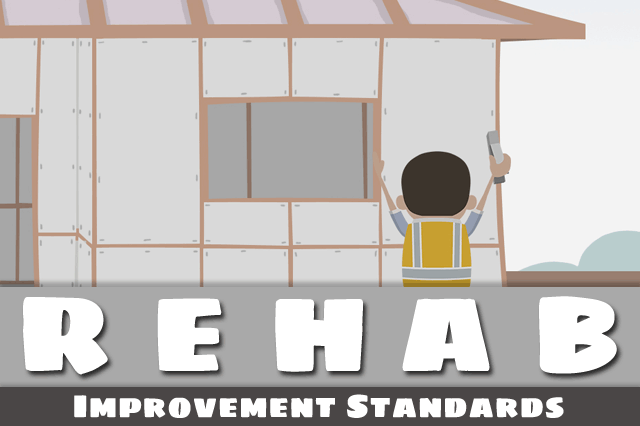 Some borrowers need an FHA construction loan such as the One-Time Close construction mortgage to build a home from the ground up. Other borrowers want to buy an existing property, but want a fixer-upper or a home that is in need of renovations/repairs in order to be considered up to minimum FHA standards and state/local building code.
For those who want to rehab an existing home rather than having one built from scratch, the FHA 203(k) rehab loan is an important option. This FHA mortgage, which is also available as a refinance loan, allows the borrower to make renovations and improvements to the property.
But these improvements must be allowed under the FHA 203(k) rehab loan program. A section of the FHA loan rulebook (HUD 4000.1) titled Improvement Standards instructs the lender as follows:
"All improvements to existing Structures must comply with HUD's MPR and meet or exceed local building codes. For a newly constructed addition to the existing Structure, the energy improvements must meet or exceed local codes and the requirements of the 2006 International Energy Conservation Code (IECC) or a successor energy code standard that has been adopted by HUD through a Federal Register notice."
That's fairly generic, but the next paragraph in this section of HUD 4000.1 gives additional clarity:
"Any addition of a Structure unit must be attached to the existing Structure. Site improvements, landscaping, patios, decks and terraces must increase the As-Is Property Value equal to the dollar amount spent on the improvements or be necessary to preserve the Property from erosion."
Under these improvement standards, some options are not allowed-basically any "luxury item" such as a barbecue pit or a swimming pool cannot be added to the property using an FHA 203(k) rehab loan. An existing swimming pool may be repaired under FHA loan rules, but lender standards may apply.
There is a list of projects you can't use 203(k) funds to pay for, which includes tree surgery except to get rid of a possible hazard), bathhouses, tennis courts, satellite dishes, or any addition that would "equip or refurbish space" for commercial purposes.
HUD 4000.1 has a list of expenses and fees that the borrower is permitted by the FHA to finance into the loan-items the borrower could pay for out-of-pocket in some cases.
It's important to note that these are the FHA's standards for Rehab loans, lender requirements may also apply. The list of "financeable" fees and expenses includes (but may not be limited to) the following:
Costs of construction, repairs and rehabilitation.
Architectural/engineering professional fees.
The 203(k) Consultant fee.
Inspection fees performed during the construction period, provided the fees are reasonable and customary for the area.
Title update fees.
Permits.
A Feasibility Study, when necessary to determine if the rehabilitation is feasible.
Speak to your lender about how lender requirements may affect your ability to finance some, all, or none of these fees.
------------------------------
RELATED VIDEOS:
Disclosures Give Transparency to Borrowers
Understanding the Purpose of Your Mortgage Down Payment
Putting Money Into Your Escrow Account
SEE YOUR CREDIT SCORES From All 3 Bureaus
Do you know what's on your credit report?
Learn what your score means.