FHA Rehab Loans for Federal Disaster Areas
December 28, 2017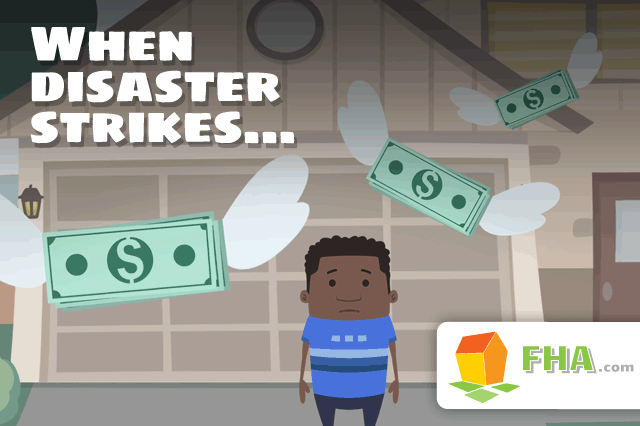 For homeowners trying to recover their homes after Hurricane Irma, Hurricane Harvey, and Hurricane Maria, there are FHA loans available to help. The FHA 203(h) Rehab Loan is specifically for those in federally declared disaster areas, and the 203(h) can be used in conjunction with the FHA 203(k) rehab loan when the lender approves.
These rehab loans can be used to repair an existing property, refinance an existing mortgage, or purchase a replacement property depending on circumstances.
Borrowers in federally declared disaster areas should contact their loan officers as soon as possible after assessing the damage to see what steps need to be taken. There will be insurance issues to sort out, rehab or replacement choices to be made, etc. Borrowers may also be eligible for FEMA assistance and other help, all of which takes time to fill out paperwork and apply for.
When repairing a home using an FHA rehab loan, there is a requirement that the property be brought to acceptable minimum standards and that one of the last stages of the rehab project will be inspections.
This is a similar set of requirements to transactions where the borrower has purchased a property which needs to be rehabbed with FHA loan funds such as a 203(k) rehab loan (limited or standard).
A home secured by an FHA rehab loan mortgage or refinance loan, for example would not be in the same condition as the home put up for sale by an owner or a real estate agent. FHA appraisal rules in HUD 4000.1 explain the expectations for these properties when financed with a rehab loan:
"If the Mortgage is to be insured under the 203(k) program, the Mortgagee must confirm that the Property will comply with the following eligibility criteria upon completion of repairs and improvements."
In some cases, the appraiser must review construction plans and other documents as required in the FHA loan handbook.
FHA 203(h) rehab loans for disaster victims have some unique deadlines. It's important to avoid delays in applying for a rehab loan in such cases, as the FHA loan handbook states,
"The FHA case number must be assigned within one year of the date the PDMDA is declared, unless an additional period of eligibility is provided."
That additional period of eligibility is provided at the discretion of HUD and may not be available in all cases. It is also important to remember that FHA 203(h) and 203(k) rehab loans are for owner/occupiers and not for investment properties. You must intend to occupy the property you rehab with an FHA 203 (h) mortgage once the work is complete.
------------------------------
RELATED VIDEOS:
There's a Difference Between APR and Interest Rates
Choose Your Mortgage Lender Carefully
Getting Started With Your FHA Loan Application
SEE YOUR CREDIT SCORES From All 3 Bureaus
Do you know what's on your credit report?
Learn what your score means.