FHA Loan
Related Terms: FHA Mortgage, FHA Home Loan, FHA Guaranteed Loan, FHA Insured Loan
An FHA loan is insured by the Federal Housing Administration and protects lenders from financial risk. Lenders have to meet certain criteria for their loans to be termed "FHA-approved," after which the FHA backs the loans the lender issues in case a borrower defaults on the mortgage. Borrowers must also meet requirements to qualify for one of these loans.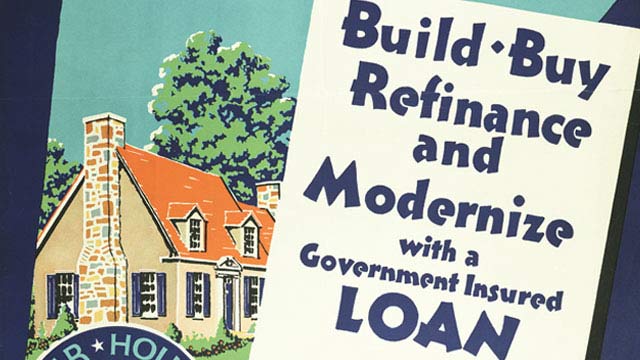 As with other loan types, there are pros and cons to entering an FHA backed mortgage agreement:
PROS:
Unlike most conventional loans, FHA doesn't require a large down payment. You can put down as little as 3.5 percent of the purchase price of the property.
FHA loans are a good option for young, first-time home buyers who have not had as much time to save for a large down payment or establish a high credit score.
Even if you've suffered from bankruptcy or foreclosures that have hindered your ability to qualify for traditional loans, you may still qualify for a mortgage through the FHA.
CONS:
Paying the FHA funding fee, which includes a monthly insurance premium as well as an upfront premium, adds on to the cost of the mortgage.
You may end up with higher interest rates to compensate for the small down payment than you would with a conventional loan.
Whereas conventional loans allow you to cancel your insurance policy once you've accrued enough equity on the home, FHA loans require that you continue paying monthly mortgage insurance premiums.
FHA loans were designed to help stimulate the housing industry and enable more lenders to operate with less financial risk.
SEE YOUR CREDIT SCORES From All 3 Bureaus
Do you know what's on your credit report?
Learn what your score means.
FHA.com Reviews
FHA.com is a one-stop resource for homebuyers who want to make the best decisions when it comes to their mortgage. With our detailed, mobile-friendly site, individuals can access information about different FHA products, the latest loan limits, and numerous other resources to make their homebuying experience easier. Take a look at some of the reviews from other FHA.com visitors!